When your guest places a new reservation via the widget, in the last step they will be asked to pay for it. If his choice of payment method is Online Payments (Przelewy24, DotPay, PayPal), he will have to finalize the transaction in order for the reservation to be confirmed. Otherwise - when he fails to make a payment (e.g. he exceeds the time to pay at his bank, he has insufficient funds, etc.), then his reservation will be automatically canceled.
How to set the waiting time for online payment?
To configure the waiting time for payments via Przelewy24, DotPay and Paypal, in the main menu, click Price list and then Booking methods. In the Online Payments section, there is a preference "Cancel reservations automatically if no payment is made to your account". All you need to do is to enable it and enter the value in minutes (in the range 1-59 min).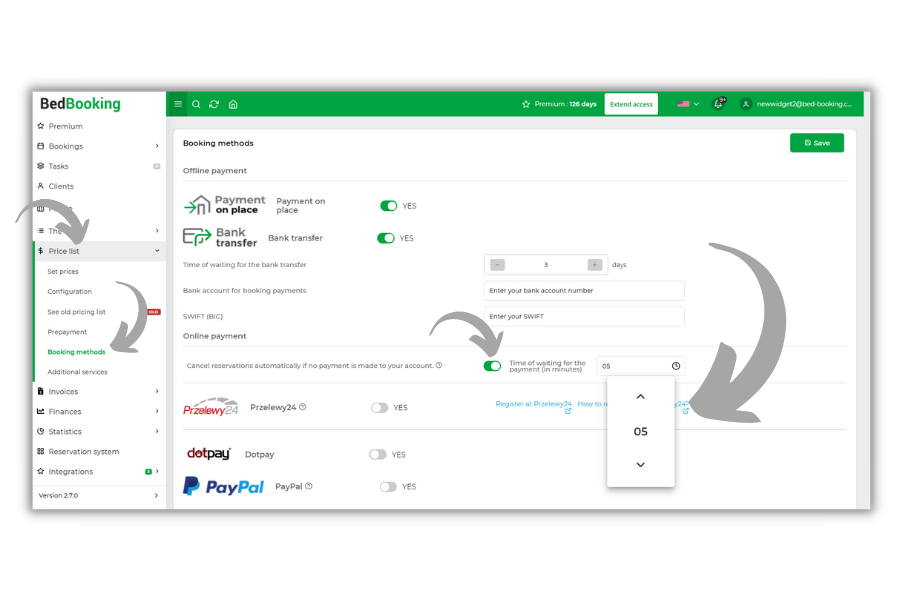 We suggest setting a relatively short time (up to 10 minutes) as payment systems usually transfer the amount due within a few to several seconds.
However, there may be cases where, for reasons beyond our control, the payment will take longer to process, therefore the proper tolerance is up to 10 minutes.
Summary
The new tool will help you to automatically delete bookings unpaid by your (would-be) guest. However, this does not mean that you will not be able to see who booked and did not pay for your booking - on the contrary - it will be visible in the Canceled tab in your Booking List. You no longer need to make sure if the guest made the payment for their accommodation in your facility.