Before you launch the BedBooking reservation system, make sure you are well prepared. A list we scripted will help you get ready. On this list you will find all of the materials and information you will need to run the booking system efficiently.
Have photos of your property and rooms ready
Customers buy with their eyes and a picture says more than 1000 words. Therefore, prepare good photos of the rooms. Ideally, take at least three photos of each room. It is important to add a photo of the entire property, common areas and recreational areas that can be used by your guests. Then add photos to adequate rooms in the "Booking system >>> Photos and regulations".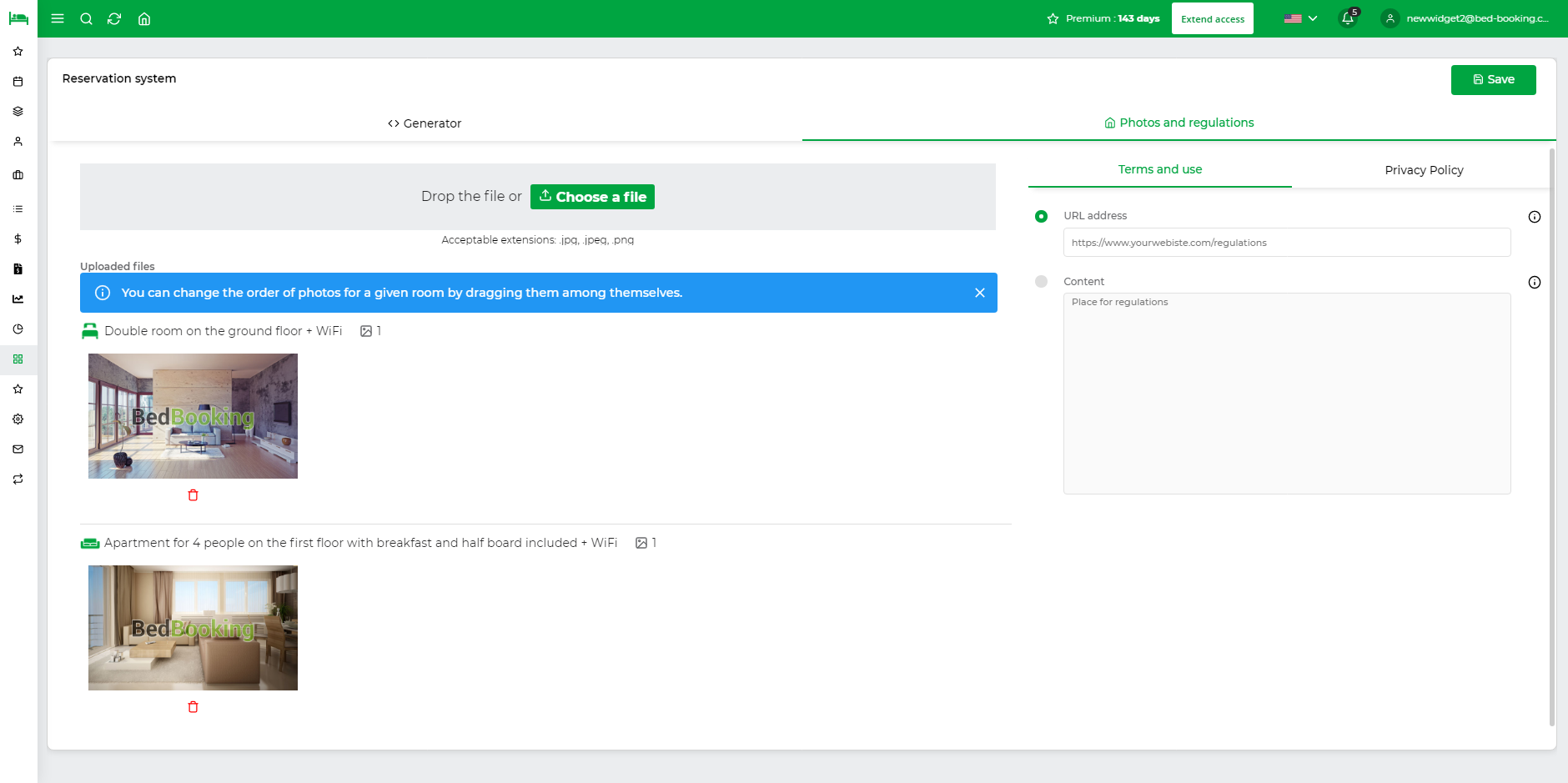 Write interesting descriptions for the rooms
The more detailed the description of the room and offer, the more likely your clients will make a reservation. Provide a comprehensive but, most importantly, true description of the room, equipment and surroundings. Add information about the area of ​​the room and the number of beds. Enter all this information in the "Edit Room" view.

Prepare highlighting texts for the offers
There is definitely something that distinguishes each room from the others. Write it in a simple sentence that will encourage your guests to book a stay. You can enter the distinguishing text for each room. It will be visible in the booking system both on the list of offers and in the room details.
Prepare booking and stay regulations
The rules of making a reservation and staying are very important. Prepare the content of the regulations yourself or commission it to someone who has more experience. It is important that the content of the provisions is unambiguous, written in an understandable way and not subject to different interpretations. Thanks to this, your clients will appreciate the fact that you value clear rules and you will feel safe in the event of conflict situations.
Start the online payment system
If you want the reservation system to act as your automatic reception desk, make sure you start online payments. Thanks to this, the money for the bookings will go straight to your bank account. If you already have an online payment system integrated with your bank account, check if you can use it in BedBooking. If you want to set up an account in the new payment system, you can use our guide for Przelewy24, Dotpay and Paypal.
After proper preparation, launching the booking system will be much easier and will take little time. Good luck.

If it turns out that you will need any help, please contact us at support@bed-booking.com
BedBooking is a mobile reservation calendar available for Android and iOS devices and in your browser. Register today and get 30 days of Premium for free:

Web app: bit.ly/2PPGgmR
Google Play: bit.ly/3teZdxE
Apple Store: apple.co/3g2Zf84

More information at bed-booking.com